Hello, guys and gals and welcome back! Lady Sonia is here with fresh content, like always, and she is ready for a fresh teasing session. Your favorite MILF is going wild in her kitchen and we caught her on camera while she was bragging on her Facebook page with that huge new toy of hers. Horny babe posed herself while she was playing with the huge dildo, almost naked and having her tits exposed, as well. You gotta see this one!
As you can see, horny Sonia was in the mood for naughty things once again as it was her no panties day. We caught her selfing herself while she was with her huge dildo. The blonde lady gets naughty with every week and you just got front row seats to her incredible show. Just sit back there and enjoy her playing with that big toy after she got naked for us. She will brag a little with her handjob skills, rubbing the think dildo like the real thing, then she'll put those talented lips all around it. Just hit that link bellow and enjoy the entire scene. Tonight Sonia got naked for us once again, so let's watch her. She is wearing those sexy stockings and no bra and she is taking some selfies for her fans with the tits out and with her slutty hand rubbing that fake cock. What could you want more. Just cum inside for the entire scene. Also, grab a seat ad enjoy the video, as well. She is waiting for you. Cum and have fun!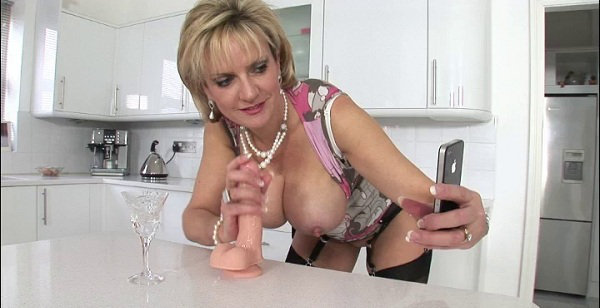 Take a look at Sonia bragging with her dildo!